From Chloé to Balenciaga and Miu Miu,
Oriane 
picks the best of the new wave of 60s and 70s flower power
that
hit the runway
Every year will bring a new trend, but there's one thing that never changes – the floral prints will arrive with the spring and, from dresses all the way through to pants and accessories, we can't get enough of them! What's different this year: You won't see cute prints inspired by Little House on the Prairie, but rather a clear retro and vintage influence.
Retro prints with repetitive patterns were everywhere on the runway and this is solid proof that the oldies are coming back in a big way. Fashion is a repetitive cycle – that's something we all know. As for my own favorite "flower power" collections, it was Chloé, Balenciaga, and Miu Miu who really made me want to travel back in time, wear round glasses, and be fed nothing else but music and pure love while singing "If you're go-ing, to San Fran-cis-cooo…"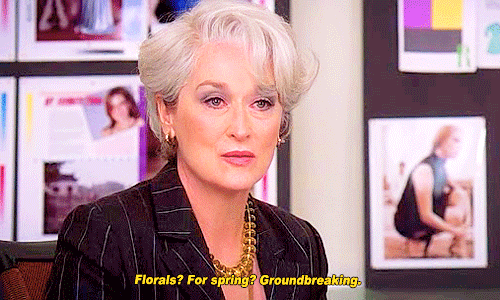 In a typical 60s and 70s hippie move, Miu Miu and Prada weren't scared to create total looks out of clashing graphic and jazzy floral prints, whereas Chloé created dreamy hippie dresses and Balenciaga took the floral print to another level with flashy floral legging-boots – genius!
Once reserved for our grandmother's wallpaper or sofa, these prints have moved from stale and antiquated to a new position on our wish lists. Bring on the retro print!
1 / 7
French and Swiss, Oriane moved to Berlin to pursue her interest in all things creative. She loves art and photography and does a lot of yoga, also to balance out her passion for great cuisine - a real foodie so to say. And of course, she is obsessed with fashion, which you can tell from her weakness for peplum cuts and ruffles. At hey woman! Oriane is responsible for shooting, producing and styling as well as editing and collage design.